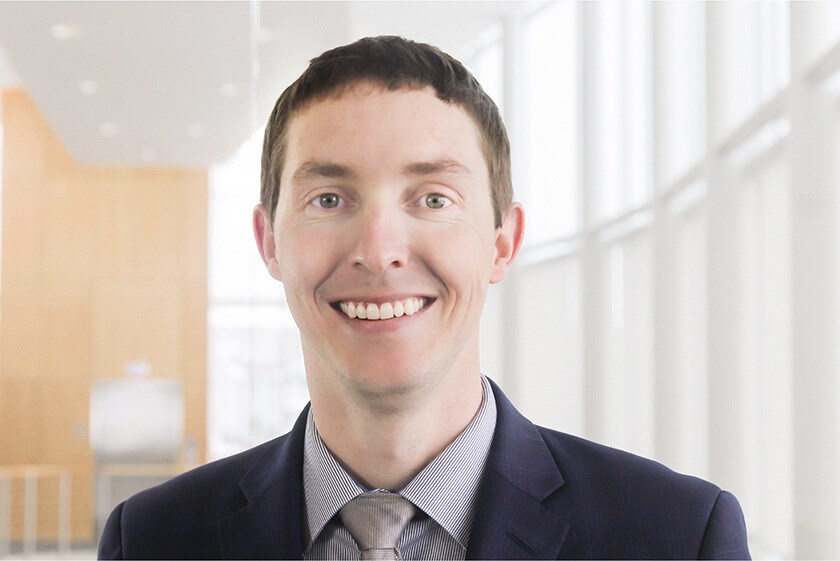 Dr. Russell Swan's adventurous spirit and boisterous laugh make him easily distinguishable at Vance Thompson Vision. He is a board-certified ophthalmologist who specializes in advanced cataract surgery, corneal surgery, glaucoma surgery, and laser vision correction.
After finishing his fellowship with Vance Thompson Vision, Dr. Swan was invited to join the surgical team to work among the region's most accomplished ophthalmologists. Today, Dr. Swan serves patients at Vance Thompson Vision's clinics in Bozeman and Billings, MT.
Dr. Swan is currently an adjunct assistant professor at the University of Utah Department of Ophthalmology and Visual Sciences and serves on the Board of Directors of the Central American Eye Clinic. He is a Young Eye Surgeon (YES) representative of the ASCRS Foundation International Committee, has participated in global ophthalmology mission trips, and is a winner of the 2018 Millennial Eye One to Watch Award.
As a Grant, NE native born and raised, Dr. Swan chose to attend the University of Nebraska-Lincoln for his undergraduate education. After graduating with the highest distinction, Dr. Swan enrolled in the University of Nebraska Medical Center from which he earned his Doctorate of Medicine with honors. Dr. Swan's ophthalmology training began at Moran Eye Center at the University of Utah and continued through an advanced anterior segment surgery residency at Vance Thompson Vision, which he completed in 2016. His prestigious education and detailed training have helped Dr. Swan to obtain an exemplary set of skills.
Due to his extensive training in advanced anterior segment surgery, Dr. Swan is highly skilled in surgeries of the front portion of the eye. As a fellowship-trained cornea and glaucoma surgeon, Dr. Swan performs the most advanced techniques in cornea transplants, minimally invasive glaucoma surgery (MIGS), refractive cataract surgery, and laser vision correction. By surgically addressing issues in the anterior segment, patients are typically able to see with more clarity, increasing their quality of life. Dr. Swan is well known at Vance Thompson Vision for his enthusiastic approach when discussing potential outcomes with patients prior to their procedures.
Extracurricular Involvement
Having participated in numerous FDA-monitored clinical trials during his time as a practicing ophthalmologist, Dr. Swan has published multiple peer-reviewed articles on various topics related to the field. Dr. Swan has a passion for community and public outreach. This is demonstrated in his establishment of and participation in multiple free charity surgery days, as well as his outreach to the Navajo Nation in Utah and two months of service and training in Kathmandu, Nepal. In addition, Dr. Swan hopes that by focusing efforts on the development of an infrastructure and training program for the National Residency Training Program at the Hospital San Felipe in Tegucigalpa, Honduras, the country may see improved eye care.
Hobbies & Personal Interests
When he is not performing surgery at the clinic, Dr. Swan enjoys spending time in the great outdoors with his family, including his wife Monica and their three children Aubree, Oliver, and Monte. Some of the Swan family's favorite past times include hiking, biking, golfing, skiing, and exploring. Dr. Swan is excited to continue his ophthalmology career in Montana and looks forward to many years of providing exemplary, advanced eye care services with the Vance Thompson Vision eye care team.
Reviews
"Dr. Swan was great. He made me feel very comfortable and took his time explaining the procedure and what results to expect. I would recommend him."
S.L.
Healthgrades
"Dr. Swan is Amazing! He has gone out of his way to make sure that we are doing everything we can for my eye and to make sure I am doing okay mentally during the process as well. | have been going to ophthalmologists for over 23 years for a variety of severe problems, but he has been the most optimistically realistic doctor and truly cares. He keeps the appointments friendly and fun while also making sure I know everything that's going on, so I am not left in the dark."
Anonymous
Healthgrades
"From Kim at the front desk through Kaycee & Dr Swan this was the best experience that we have ever had at a Dr's office. They truly put the customer first in their customer service."
J.&.
Healthgrades
"The staff was very knowledgeable and accommodating. Dr. Swan explained everything very well, and answered any questions I had."
Anonymous
Healthgrades
"Great place to go for cataract surgery. They take the extra time to be sure you get the right lense for your eyes. Came out with perfect crystal clear vision. Dr. Swan is a rockstar."
D.
Healthgrades
Related Posts